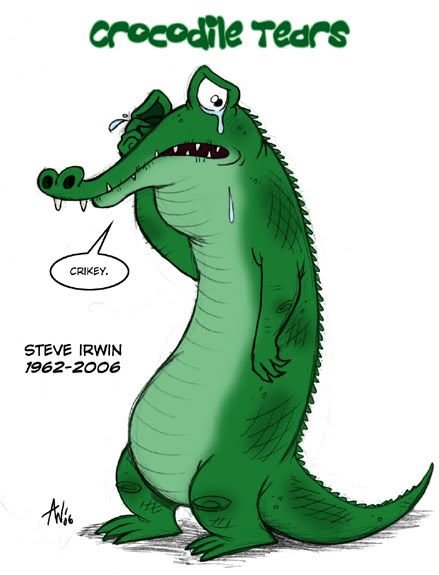 I was one of the many who were saddened by today's news that Steve "Crocodile Hunter" Irwin had been killed. The man's enthusiam for what he did w
as infectious, and his theatrics were always entertaining to watch. Not to mention the impact he had in the field of zoology and other related fields (and the recognition he brought to it). I feel especially sad for his wife and two young kids. He'll be missed!


In addition to the new sketch above, I thought I'd post an old comic strip I did in which "Steve" made an appearance. This comes from back in 2002, when I attempted a very short-lived online comic strip featuring and named after "The Cat
".
The strip (which came from a series in which The Cat was finding a variety of increasingly unlucky lucky charms) is some four years old now, so I'm quite embarrassed by pretty much every aspect of it by today's standards. But I'll post it anyway. Please forgive the quality.

And as a bonus, here's a clip of Steve on "Late Night with Conan O'Brien". This clip is actually not one of the best appearances I remember Steve making on that show, but it's the only one I could find a clip of. Enjoy!